Product Details
Condition:Brand New
Type:Service Manual
Brand:Komatsu
Product Description
<meta http-equiv="Content-Language" content="en-us"><meta http-equiv="Content-Type" content="text/html; charset=windows-1252"> <!-- MSTableType="layout" --> This service manual covers the Komatsu WA500-1 Wheel Loader. This is a BRAND NEW manual. Never used, no missing pages, no grease or coffee stains and no writing or scribbling. Its a good size book with about 1000 or so pages. It also has big fold out wiring diagrams. Here are the sections of the manual: ENGINE, POWER TRAIN, STEERING SYSTEM, BRAKE AND AIR SYSTEM, WORK EQUIPMENT SYSTEM, ELECTRIC AND ELECTRONIC SYSTEM, OTHERS.
SERIALS COVERED - 10001 & UP
Not the manual you need? I have others to list so just ask and I may have what you need.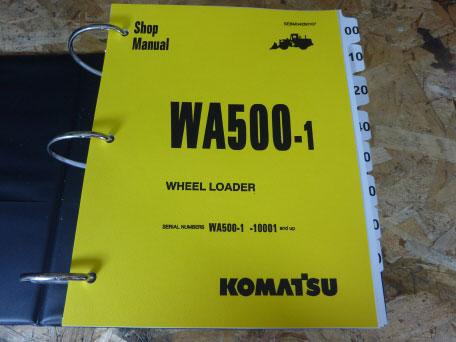 Click picture to enlarge




Related News
When the valve with internal leakage failure disintegrates, it is found that the sealing surface of the valve core seat is damaged, which is characterized by dense medium scouring grooves. In the closed state, the valve medium can still leak along the...
According to the analysis of protective components used in agricultural machinery, the leakage control of hydraulic cylinder is mainly piston seals. From the point of view of inspection, specific inspections should be carried out for different types. For...
The swash plate axial piston pump on the traditional research on the flow characteristics and pressure characteristics in low speed conditions, to improve the series piston pump, which can meet in low-speed conditions as power element pump control system...